Baywatch is the 2017 remake of the 1989 hit TV series. The main focus is a group of super fine lifeguards who take their job to the next level. I've been looking forward to this elease for ages, and it did not disapoint.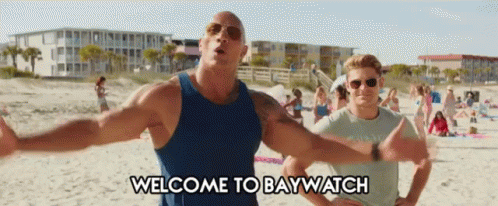 The film hasn't received great reviews, and I feel like this is because people expected too much. Look at it for what it is: a comedy about a bunch of hot people. Zac Efron's abs are enough to get the film at least a 7, and Dwayne (you will always be the Rock to me) Johnson is hilarious in everything. Anyone who expected the movie to be on the same level as the show was just looking for disappointment.
For me, the movie had everything I look for in a comedy. Funny, but not exclusively joke after joke. It wasn't raunchy humour, either, which I don't typically enjoy. It had a fair amount of action and romance to keep things interesting, too.
I worship their bathing suits, and Kelly Rohrbach, who played C.J. How can someone be that beautiful?
And Priyanka Chopra as the Bond villain in the making? Perfect. I love her in Quantico, and it was hilarious to see her play overthetop evil.
They even had Pamela and David come back for a little bit!
Best quote?
I'm oceanic, motherfucker!
Overall, I'm giving the movie a 8/10. It was light, fun, and entertaining. No, it won't be winning an Oscar, but who would have expected it to?