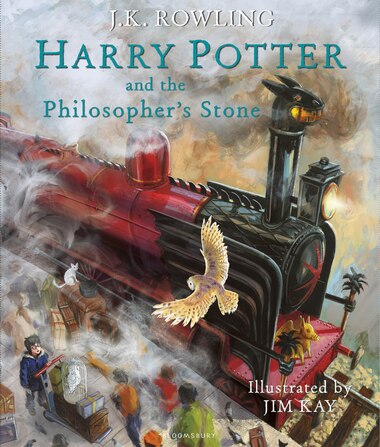 Every couple of years, I re-read Harry Potter (like any good wizard). Also like any good wizard, you can never have just one set of Harry Potter novels.
As you can tell, I am building an illustrated collection. The only thing that makes reading Harry Potter better is reading it with the aid of images. Jim Kay's artwork is stunning, bringing the books to life in a way that the movies can't (because you can't read and watch at the same time).
Aside from the fact that the books are heavy and a bit awkward to read (how are the next 4 going to be readable??), it's worth it for the beautiful hardback cover, the fancy built-in book mark (I am obsessed with books that have these), and the beautiful pictures.
Even the pages without pictures have gorgeous background designs, and each chapter is introduced with a small picture representing the following pages.
Throwback to that time Fred and George pelted Voldemort with snowballs (I always forget about this scene, and laugh every time I re-read it).
One of my favourite images is Harry wearing the Sorting Hat. Jim's vision of what it would look like is so different than the movie, and yet it's sort of perfect.
Overall, I'm giving the book a 10/10. It's impossible to give a HP anything else, even if it's tricky to read comfortably. Even if you can't physically read the book, I still recommend collecting them and flipping through the pictures. If you're a HP fan, this collection is a must, must, must!